Sell & Shop Online
Reach thousands of local shoppers.  No annoying negotiating, ghosting or sketchy meet-ups that happen with marketplace.  No shipping or bulky wasteful packaging.
Non-Refundable Registration Fee (EARLY BIRD) = $5 @ sign-up

You set the price ($3 Items Minimum Price)

Earn more than all other local/online consignment options!  Keep 70-75% of your earnings (sign up to work to earn more!).

Drop off only what sells.

Multiple convenient sold item drop-off and purchase pick-up options available.

Earn extra money to fulfill your own list!

Support other local families and do your part to help the environment when you choose local community resale.
About Grateful Village
Conscious Community Consignment
Promoting Sustainability in Western North Carolina by providing platforms to safely & efficiently keep our valuable resources in circulation where they are most needed for as long as possible.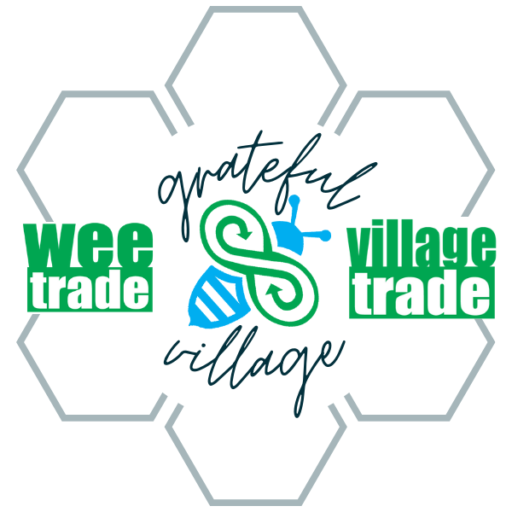 Sell
Do you have new or like new giftable items to sell?  The holidays are fast approaching and time to clean out the items that are not serving you and allow someone to fulfill their gift list Sustainably!  The Holiday Village Marketplace is the perfect place to list giftables as well as holiday apparel and decor.  You set the price!
Shop
Looking to get a head start on your holiday shopping and prefer to shop local and sustainably?  Love shopping online for convenience?  Do you love a deal?  The Holiday Village Marketplace is the perfect place to start this season! Shop online during our pop-up event from hundreds of local sellers and pick up all of your treasures in one spot.
Are you a local artisan?  Have a local small business that offers goods or services in WNC?  Are you looking for ways to get your brand in front of thousands of neighbors that embrace the concept of shopping and supporting local?  Partner with Grateful Village & Sell online at the Holiday Village Marketplace (keep 80%).
New Items (with tags or in packaging)
Like New Items: Ask yourself, "Would I wrap this and give it proudly to a stranger?" If the item is not in excellent "like new" condition, it is not appropriate for the holiday sale. No missing pieces.  No decal imperfections.
Non-Holiday Clothing Items MUST BE NEW WITH TAGS UNLESS THEY ARE BOUTIQUE BRANDS (

We will now allow BOUTIQUE BRAND clothing for both children and adults. Think of brands like Lululemon, Columbia, Lily Pulitzer, Kate Spade, Nike, Prana, Athleta, Mini Boden, Adidas, Under Armour, and more. These items should be in like-new condition but do not need to be new with tags (excluding Target, Walmart, Carters, Children's Place, Old Navy, etc.). Remember, the items should be nice enough to wrap and gift to a stranger!

Holiday Apparel 
Holiday Decor/Decorations (excellent-used condition or better)
Register to sell at the Holiday Village Marketplace online.  If you are a previous Village Trade seller, you will use your Village Trade consignment account through MySaleManager. If you are a new consignor, register HERE.

Pay non-refundable Registration fee at the time you sign up. (EARLY BIRD SPECIAL: $5 LIVE NOW/Regular Registration=$10)
Take pictures and upload your giftable items into your inventory. Use the instructions for our online Village Trade sale for how to take and upload photos.  You may use collages, but one image file per item allowed into the software. 
Make sure items are marked "ready to be sold online" so that they will be imported into the store. (they will have a computer icon if this is complete)
There will NOT BE DISCOUNT DAYS during this sale. We may offer coupons or discounts during the sale to engage shoppers, but they will not impact your earnings.
Price the items to SELL! Think to yourself, "Would I snatch this up at the sale for this price and be thrilled?" as you set the price.
Sellers keep 70% of earnings, or 75% if you choose to work a 4 hour shift during the sale. 
When the sale has ended, you will be given instructions to print tags for your online sold items.
Prepare your items and drop them off with Grateful Village!
Orders will be checked and shoppers will pick up their items.  Items will be inspected by the buyer and must meet quality standards and be in listing condition. A $2 admin fee will be charged to the seller for any unacceptable items after dropping off (see seller agreement).
Payment will be issued via e-check within 7 days of purchase pick-up. Checks expire in 180 days.
Presale: Early access to deals (passcode required): Saturday Nov. 4
Public Online Sale: Sunday Nov 5 @ 8am – Saturday Nov 11 @ 7 am
Remote Sold Item Drop-Off:*
Monday Nov 13
Pardee Hospital @ 7:10 am
WNC Ag Center @ 8 am
Candler Home Depot @ 6 pm
WNC Ag Center @ 6 pm
Woodfin Ingles @ 6 pm
Tuesday Nov 14
Groce United Methodist Church Parking lot (Tunnel Rd) @ 9 am
Sold Item Drop-Off: Tuesday Nov 14 @ 3 pm-6:30 pm – St. John's Episcopal Church (East Asheville)
Purchase Pick-Up: Thursday Nov 16 @ 10 am-1:30 pm – St. John's Episcopal Church (East Asheville)
Remote Purchase Pick Up:*
Thursday Nov 16
Candler Home Depot @ 6 pm
WNC Ag Center @ 6 pm
Woodfin Ingles @ 6 pm
Friday Nov 17
 Groce United Methodist Church Parking Lot (Tunnel Rd) @ 9 am
*Remote Options are for small items only.  All sold/purchased items must be able to fit in a closed cardboard box.
Email connect@gratefulvillage.com before signing up to discuss partnership.
Consignment Fee reduced from 30% to 20% for vendors.
Minimum of 15 items required to qualify. All must be giftable goods or services. 
Reach thousands of local shoppers without setting up a booth!   All vendors will be featured with ads on the sale homepage and in marketing emails/social media posts. 
We ask that all vendors help cross promote the sale through their own following!
Sign up for a Busy Bee work shift to help us with drop-off, order checking and pick-up.
Workers pay 5% less consignment fees (keep 75% rather than 70% of sales).
Can you help with marketing the event?  Email us about creative work opportunities!  This is a new sale and we welcome your ideas and expertise on how to get the word out!